The Strike for Repeal Event took place in 2017
The Limerick Feminist Network is committed to fighting for full bodily autonomy for all people in Ireland and believe that there should be a repeal of the 8th amendment. We regularly hold information evenings and work with organisations that are pro-choice, pro-abortion and promote full reproductive and birth/maternity rights. We are members of the Coalition to Repeal the Eighth Amendment and supporters of the Strike 4 Repeal movement.
Strike 4 Repeal
Strike 4 Repeal are an ad-hoc, non-affiliated group of activists, academics, artists and trade unionists preparing a nationwide Strike for Repeal on the 8th of March 2017. The demand is that the Irish government call a referendum to repeal the 8th Amendment by the 8th of March. If not, Ireland will strike. The strike will not be an industrial strike in the traditional sense but could include taking an annual leave day off work, refraining from domestic work for the day, wearing black in solidarity or staging a walkout during your lunch break. Business owners in a position to close their services at no cost to workers are also being encouraged to do so for all or part of the day as a solidarity action. You can read more about Strike 4 Repeal at: strike4repeal.org and find their press release here.
Strike 4 Repeal Limerick Event
The Strike 4 Repeal Limerick event has been organised by a collaboration of Pro-Choice individuals and groups across Limerick and neighbouring Clare. This event is in solidarity with the larger Strike 4 Repeal movement who are calling for a nationwide strike on Wednesday, March 8th, International Women's Day, to send a message to Government that we will no longer wait quietly for our rights to full bodily autonomy.
Please come along to Bedford Row in Limerick city at 2pm on March 8th to show your support. We are also asking people to wear black and use social media to share messages #WeWontWait #Strike4Repeal.
This event will be child friendly (one confirmed speaker will be bringing her children) with food and entertainment. Confirmed so far:
AIMS Ireland
Clare Abortion Rights Campaign
Limerick Feminist Network
Limerick Pro-Choice
ROSA
If you would like to get involved in this event please contact Aims Ireland or Limerick Feminist Network for more details. To add yourself to the facebook event click here.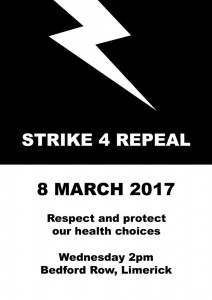 Credit: Anna Lilley and Eilis Murphy
Coalition to Repeal the Eighth Amendment
The Coalition to Repeal the Eighth Amendment is a growing alliance of over 80 organisations including human rights, feminist and pro-choice organisations, trade unions, health organisations, NGOs, community organisations and many others. Members agree that the Eighth Amendment to the Constitution must be repealed in order to respect and protect the lives, health and choices of people in Ireland. For more information on the coalition go to: www.repealeight.ie
Repeal
To find information on the upcoming abortion referendum and all things Pro-Choice happening in Limerick click here.
Citizens Assembly
Click the link below to view our submission to the citizens assembly.
limerick-feminist-network-submission-to-the-citizens-assembly-on-article-40-3-3
Abortion
For information and links to organisations that can help provide people with support, information and access to abortion and abortion pills click here.
Morning After Pill
The Limerick Feminist Network has started to log of the best pharmacies to get the morning after pill in the Limerick area.  To view this information click here.
What is the Eighth Amendment?
Article 40.3.3, known as the Eighth Amendment, was voted into the Irish Constitution by referendum in 1983. The amendment states: 'The states acknowledges the right to life of the unborn and, with due regard to the equal right to life of the mother, guarantees in its laws to respect, and as far as practicable, by its laws to defend and vindicate that right.' The amendment equates the life of pregnant people with that of an embryo or foetus and has created an unworkable distinction between a pregnant person's life and their health.


Credit: Coalition to Repeal the Eighth Amendment 

Credit: Strike 4 Repeal