The Limerick Feminist Network is a feminist group based in Limerick city, Ireland. We hold regular meetings and events to help grow and strengthen the feminist community in Limerick. Anyone who identifies as a feminist is welcome to get involved.
Before getting involved please view our policies, if you have any questions about our views feel free to contact us.
In order to be effective in creating a gender equal and just society we are happy to work with organisations and networks that promote equality, social justice and share our values. However, we would like to note that while there are a number of local and national organisations we openly support, we do not affiliate fully with any political party. On occasion our views may align with one or more political party/individual and we may support them for individual or 'one off' causes, we do not fully endorse the views of any single political party or individual.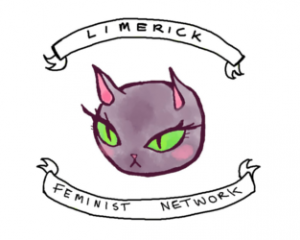 Our awesome logo was designed by the wonderful Sarah Maloney and Niamh Dorgan.
You can find their artwork here: Sarah and Niamh.