Here you will find information on other local and national events we think may be of interest to our members. If there is an event you would like us to advertised, get in touch.
***************************************************************************************************************************************
Women's Voices in Ireland – Hosted by Women's Studies at UCC –  Friday – Sunday, June 9th-11th in University College Cork
Women's Voices have not been properly heard, or listened to, in Ireland in the past century. This will be an opportunity to listen to voices of the past and learn to express, and heed the voices of today. Voices can be expressed in a multitude of ways and the festival includes activism, history drama, film, music and poetry and other expressions of the female voice, as well as analysis of that voice through the lens of history, sociology, literature, philosophy, and politics. We will hear from activists and scholars and see performances related to women's voices in Ireland from the decade of revolution to today, the decade of centenaries.
The Limerick Feminist Network are delighted to be facilitating a workshop as part of this event. 
Feminist Killjoy: living with unpopular opinions – Saturday, June 10th at 12pm – Please register for this workshop as places are limited
Part discussion, part rant, fully cathartic, Feminist Killjoy will see Limerick Feminist Network members facilitate an interactive discussion where attendees are invited to share their experiences of what it's like living with sometimes unpopular feminist opinions. The purpose of this workshop is to celebrate and commiserate what it is like to live a feminist life and take up space as a woman. (This event is trans/queer/nonbinary inclusive).
You can register for the full event, workshops and other activities here.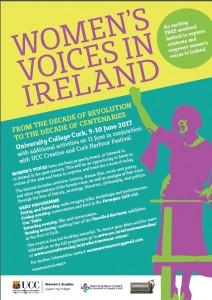 Photo Credit: Women's Studies at UCC
***************************************************************************************************************************************